Galvanized Steel Soccer Goals
Soccer goals and nets for adult and youth soccer.
Need soccer goals that can handle ABUSE?
Want the strength of STEEL without the rust?
Then do what the Park and Recreation Department does,
Buy Galvanized Steel Soccer Goals.
Only All Goals makes a SAFE galvanized steel soccer goal. Safety must be your number one concern in purchasing soccer goals, because they are left alone on the field for a long time each year. Safety steel is lighter than standard 11 gauge steel. The entire goal is actually as light as 4" square aluminum goals.
Our galvanized steel goals have been in use on fields across America for almost 40 years without fail. Many of our goals from the early 70s are still used regularly.
All Goals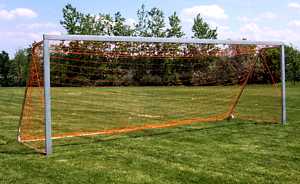 All Goals is a master producer of soccer goals, soccer re-bounders, youth soccer goals portable soccer goals, permanent soccer goals, and a soccer equipment field supplier to Youth Soccer association and soccer booster club groups all across the United States of America.
We charge $10 minimum or 10% for shipping on all items. Email for a shipping quote for goals.
PAR, LAR, PARE, P and PW series soccer goals only: We ship to residential and commercial destination in the continental USA only. Extra shipping service charges may apply, which include but are not limited to; lift gate, residential, church, school, park and construction site locations.
All sales subject to All Goals Terms and Conditions regardless of point of purchase.
Webuy@AllGoals.net